ON THIS DAY OF REMEMBERANCE ABOUT WORLD WAR I
Another chance to listen to the beautiful story Archie Dobson's War.  It is the story of an ordinary family and what happens when the family have to cope with the events of World War I.   Written by Rob John, this BBC Radio adaptation was produced for schools but it really could hold a prime time spot on BBC Radio 4.  Have a listen, you won't be disappointed.
Emily Dolbear, Jade Andrews and Me, (Archie)
It is the summer of 1914. The Dobsons are getting ready to visit their country cousins, the Carters. Ten-year-old Archie Dobson is particularly excited to be seeing his older cousin Walter. Walter tells Archie of a great adventure he believes to be coming in the near future…and when war is declared later that summer Walter enlists in the army and leaves for France.
Archie Dobson's War – Part 2
http://www.bbc.co.uk/programmes/p01n4lww        20 minutes
The second part of the story 'Archie Dobson's War'. Archie's cousin Walter has gone to join the war in France. Archie wonders what life is like for Walter at the front and then receives a letter from him describing the Christmas truce of 1914. Later a Zeppelin passes over Archie's house and drops its bombs on the town – suddenly the War no longer seems remote. Mr Dobson is given a white feather in the street and then in 1916 a letter arrives informing him that he has been conscripted. He tells the children not to worry…but Archie and Mabel have learnt enough to know how serious the situation is.
Archie Dobson's War – Part 3
http://www.bbc.co.uk/programmes/p01n4m29        20 minutes
In the third and final episode of 'Archie Dobson's War' we hear from the front lines where both Walter and Edward Dobson are preparing for the 'big push'. Back on the home front the attitudes of both Archie and Mabel towards the War are changing. Then the Armistice is announced and the country celebrates; but for Archie and Mabel the celebration is tempered by recent events.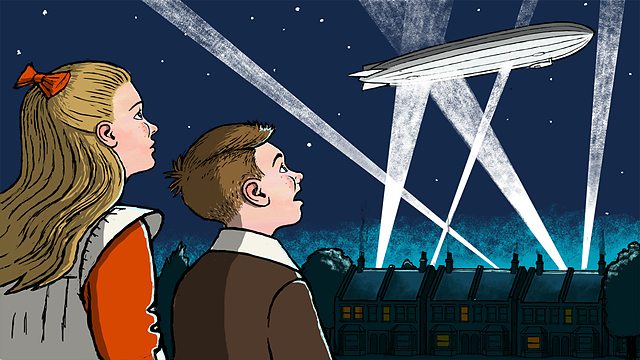 BBC –  Stuart Fyfe and Marie Crook